Simply sleeping healthy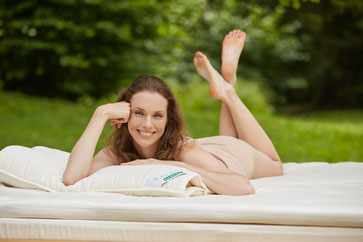 For over 25 years, SAMINA offers sleep in its most natural form.
A sophisticated orthopedic sleeping system, with pillows and blankets made from high-quality, natural materials (virgin wool, cotton, natural rubber, ash wood, beech wood) for healthy sleep optimization are paramount here.
All products are manufactured by hand in a factory in Vorarlberg/Austria. As a supplier for the entire sleeping area, SAMIA also carries metal-free bed frames in all wood types.
Service: qualified and expert "sleep-healthy" advice in the case of back pain and sleep complaints.
SAMINA offers you:
A unique "sleep-healthy" concept by the Austrian sleep psychologist Dr. med. h.c. Günther W. Amann-Jennson
orthopedic pillows and soft blankets made from pure natural materials
metal-free beds and bed frames made from natural materials
Expert sleeping advice
SAMINA
Colonnaden 70 | 20354 Hamburg
Phone: 040 - 357 187 07
E-mail: samina.hamburg@samina.de
Opening Hours 
Tuesday – Saturday: 10 am – 6 pm