Goldschmiede Hellwege (Goldsmith)
Sense and Sensuality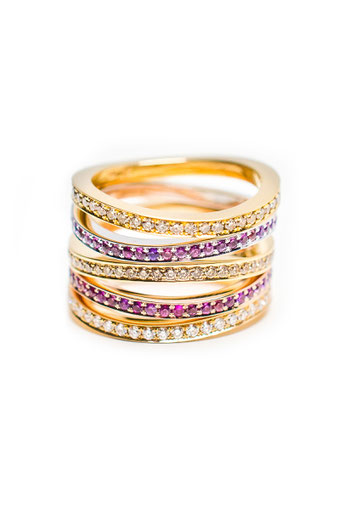 Those who enter the shop in the historical building soon leave the outside world behind. The atmosphere is warm and inviting. The modern interior, with impressive chandeliers and Italian leather chairs, forms a delightful contrast to the historical building with artistic ceiling stuccos.
The small treasures lie in roughcast concrete display cases, specially made for them. Small cubes effectively underline the unique character of each individual piece of jewellery.
Nana Hellwege and Katrin Hellwege are goldsmiths of passion, and in their atelier in the Colonnaden they convince with crafty precision and expressive unique pieces. The jewellery by Nana Hellwege and Katrin Hellwege is clear and pure, and it carries an unmistakable signature.
The owners personally take time to individually advise you, so that every customer finds the fitting piece of jewellery according to their motto: "Adorn yourself with happiness".
Goldschmiede Hellwege (Goldsmith)

Colonnaden 25 | 20354 Hamburg
Phone: 040 / 38 61 04 42
E-mail: info@nana-hellwege.de
Opening Hours
Monday – Friday: 10:30 am – 6 pm
Saturday: 12 am – 4 pm and at other times by arrangement