Here you will always find the most current new trends and fashionable brands and labels: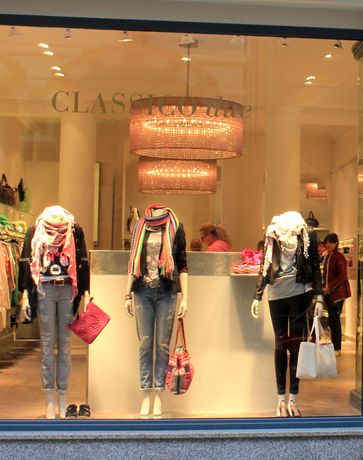 Classico stands for women's fashion in the premium fashion segment. The carousel of fashion is constantly turning, and those who are interested in fashion are always searching for latest trends to reinvent themselves or underline their existing style. Amongst other things, that is what you will find in our Classico shop in the Colonnaden.
A well-fitting suit provides the required authority for your interviews, comfortable high heels don't only stretch your silhouette, but also enhance every party night, and a spacious handbag is the best companion for every woman, since you can store everything you need for the day in it. Once your favorite fashion items are found, a life without them becomes unimaginable. They become part of us. With our clothing, we transfer our heart, our personality, and our style to the outside world.
CLASSICO Store
Colonnaden 13 | 20354 Hamburg
Phone: 040 / 354 667
E-mail: info@myclassico.com
Opening Hours
Monday – Friday: 10 am – 8 pm
Saturday: 10:30 am – 7 pm
Designer
7 for all mankind • AG Jeans • AGLINI • AGOLDE • Alice & Trixie • American Vintage • ana alcazar  • Anni Carlsson  • Blauer.USA • BLONDE NO.8 • bloom • BOSS ORANGE • CANADIAN CLASSICS • Candice Cooper • CLOSED • COLMAR ORIGINALS • Como No.1 • dea kudibal • DIANE von FURSTENBERG • DOROTHEE SCHUMACHER • DRYKORN • EQUIPMENT • FIVEUNITS • gwynedds • HALE BOB • HUGO HUGO BOSS • iheart • IVI collection • JIMMY CHOO • JOHNNY WAS • juvia • kanna • KAPTEN & SON • KENNEL & SCHMENGER • KENZO • Le Specs • LILI RADU • MAJESTIC FILATURES • MICHAEL MICHAEL KORS • MOS MOSH • MOSCHINO • MUCHO GUSTO • NICOLA.HINRICHSEN • OAKWOOD • PARAJUMPERS • PATRIZIA PEPE • PHILIPPE MODEL • Plomo o Plata • rag & bone • Rails • REBECCA MINKOFF • Reptile's House • SACK´S • Salty Skin • sara martignoni • Schott NYC • SCHYIA • SECOND FEMALE • SET • SHABBIES AMSTERDAM • smilla • STEFFEN SCHRAUT • SUPERGA • The Kooples • UGG australia • VANESSA BARONI • VMP • W.E.T. • WOOLRICH • yippie hippie • ZADIG & VOLTAIRE